Anomaly
Event Promo for Billy Blue College of Design (Melbourne) first graduate exhibition, Anomaly.
ANOMALY
Fracture Gallery, Federation Square.
Cnr Flinders & Swanston St, Melbourne, Australia
20th - 27th February, 2015
Storyboard & Stills
A snapshot of the original filming storyboard compared with some stills from the final film.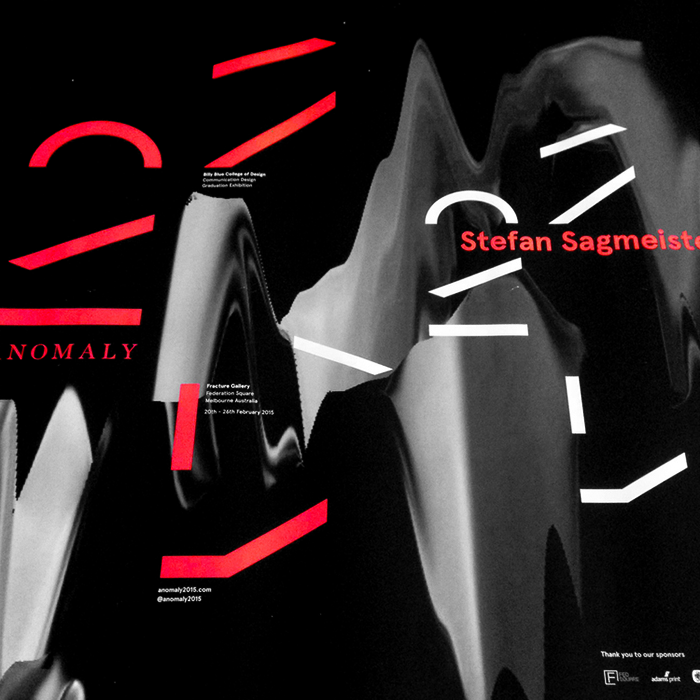 Limited Edition Poster
Use of film still as background element.
Anomaly
Working with students and lecturers for the Billy Blue College of Design (Melbourne Campus) inaugural Bachelor of Applied Design graduate exhibition and event, I created the promotional teaser and short film for Anomaly.
Visual distortion and chaos became a driving force for the exhibition. I filmed the graduates acting out various stages in a creative cycle and applied visual effects to compliment this. I also composed a soundscape that encapsulated the chaotic nature reflected in the visuals. The storyboard was used by the graduating class to create a secondary visual language and a manifesto.
The film and stills were used in the exhibition space, marketing collateral and in our online presence, as well as in a limited edition poster.

Our exhibition was a resounding success and was seen both locally and internationally. It was launched in association with AGDA, includes a keynote from Stefan Sagmeister, and showcases our graduating class.
 
Role: Project Manager and Art Direction including; concept development, including research and experimentation to create a unique solution, creation of a winning multimedia pitch for graduate exhibition, entitled 'B(L)OOM' for which Anomaly would be based on, collaboration with other students to help create identity and overall feel for the exhibition, promotional teaser storyboard and treatment, director of students when filming, project management, organisation of filming schedule and talent, editing, sound design for film and exhibition experience
Project: ANOMALY - Bachelor of Applied Design (Comms.) for Billy Blue College of Design (Melbourne Campus, Completed February 2014)
Further exhibition set up and behind the scenes of the launch can be seen here.